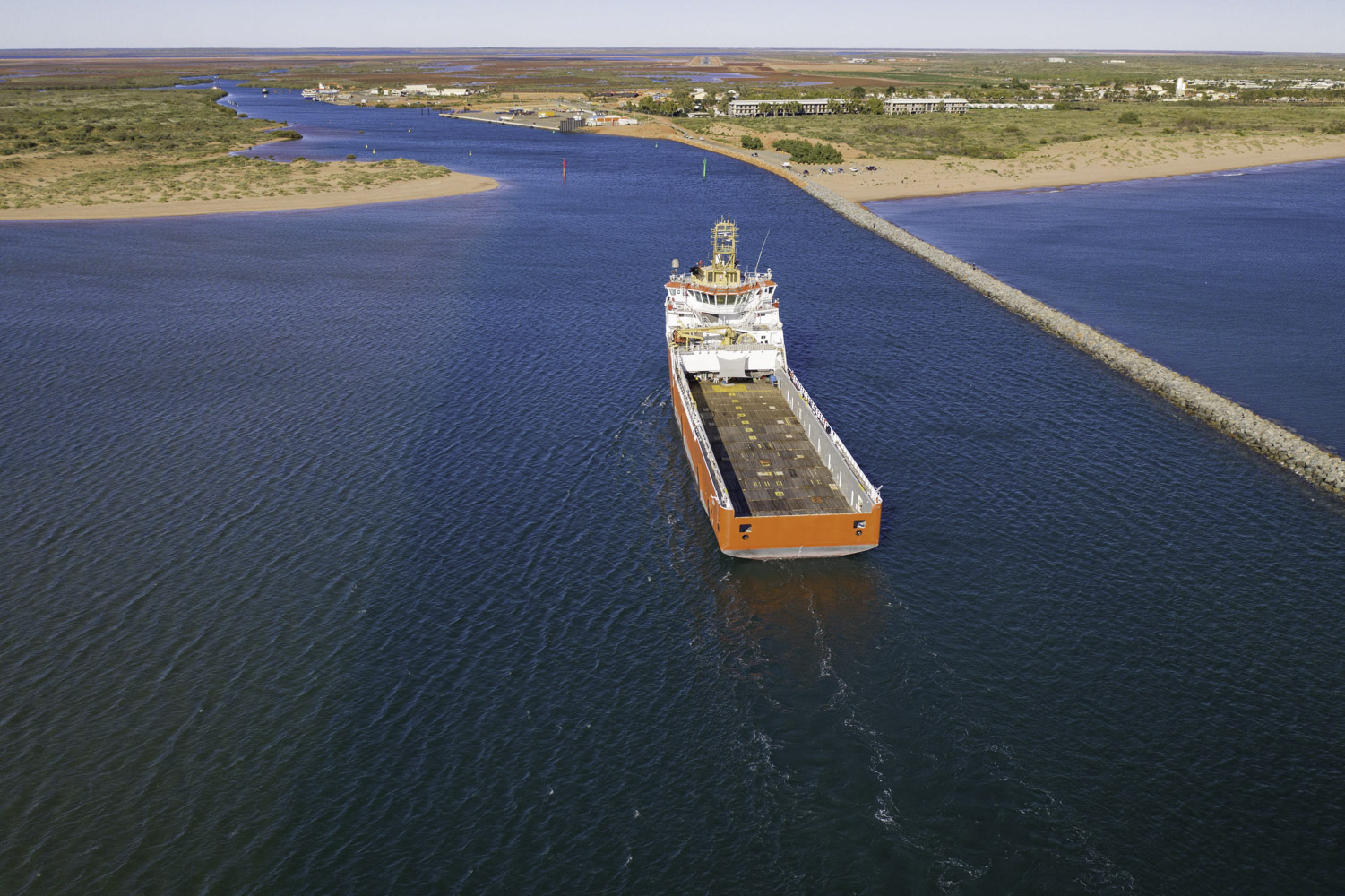 Indigenous Engagement Strategy summary: Onslow Marine Support Base
Project: Marine supply facility including wharf and harbour expansion. Location: Onslow, WA
Project Overview
The Onslow Marine Support Base (OMSB) includes construction of a wharf, training wall upgrade and waterway expansion (capital construction of channel and turning basin). See here.
The marine supply base facility will be a service hub for the Pilbara mines and oil and gas fields providing chandlering, heavy lift capabilities, reverse logistics, refuelling, supplies, transport, freight, maintenance, repair and emergency services to sustain onshore and offshore industries.
The Indigenous Engagement Strategy (IES) was revised in August 2019 and the project's construction phase was completed in December 2019.
Key commitments
OMSB will engage with Indigenous communities to explore partnership opportunities with other businesses.
Project will have active engagement with Indigenous suppliers, contractors and businesses that employ local Indigenous workers.
Contractor must report on a 6-monthly basis on engagement activities and the number of hours of Indigenous people employed.
Community Engagement
OMSB will undertake a range of engagement activities including:
Ongoing direct relationship with Buurabalayji Thalanyji Aboriginal Corporation (BTAC) at the CEO and Board levels with regular engagement to discuss economic and social development opportunities, aspirations and priorities.
Developing cultural protocols to provide effective and respectful communication, including acknowledgement of Traditional Owners and Custodians of the land at formal ceremonies.
Actively encouraging stakeholders and partners to develop their own appropriate Indigenous Engagement Strategies including local Indigenous employment through the facility's Operator.
Cultural awareness training delivered to all operational staff through Buurabalayji Thalanyji Aboriginal Corporation (BTAC).
An annual review of the IES.
Employment and Community
OMSB will regularly engage with Indigenous communities to explore partnering with other businesses and implement a Memorandum of Understanding with the facility. Operator to encourage engagement with Indigenous suppliers and contractors, and businesses that engage local Indigenous workers. OMSB will continue to support Agility, the facility Operator, to appropriately resource Indigenous engagement to drive increased Indigenous participation.
A Case Study factsheet on Onslow can be viewed here: Onslow factsheetopens PDF file
Andrew Natta, Director, OMSB: "The NAIF has been instrumental in allowing the OMSB project to progress far quicker and unlock the strategic location of Onslow, which will provide efficiencies that will promote jobs and further opportunities to the state of Western Australia."